The above image is what we have in the baby's room so far. We painted the room "stone eagle" grey, added a grey and white rug from Rugs USA, and I had the IKEA KALLAX from a previous apartment situation and thought it would make the perfect changing area (with the addition of these white IKEA storage bins). I love love LOVE this room so far, but it has a long way to go until it's baby-ready. From the moment we found out we were having a boy, I started thinking about what I wanted his nursery to look like and, like any red-blooded mom-to-be, I began scoping Pinterest for some ideas. Below are my favorite nursery inspirations.
IKEA Spice Racks as Shelving
I have a soft spot for IKEA hacks, so when I found this picture of $4 IKEA spice racks used as shelving in a baby's room it was like I had struck gold. I LOVE this idea! I just might have to steal it.
Shades of Grey and White
This is the color scheme I am going for in the baby's room, if you haven't noticed by the photo above. I want it to feel really serene and this picture is similar to the look I am going for.
Minimalist
I like this nursery because it's very minimalist. I don't want a ton of art work or "things" cluttering up the space. I like how this nursery has statement pieces like the gold mirror, plant, rug, and light fixture which give the room personality.
Black , Grey, and White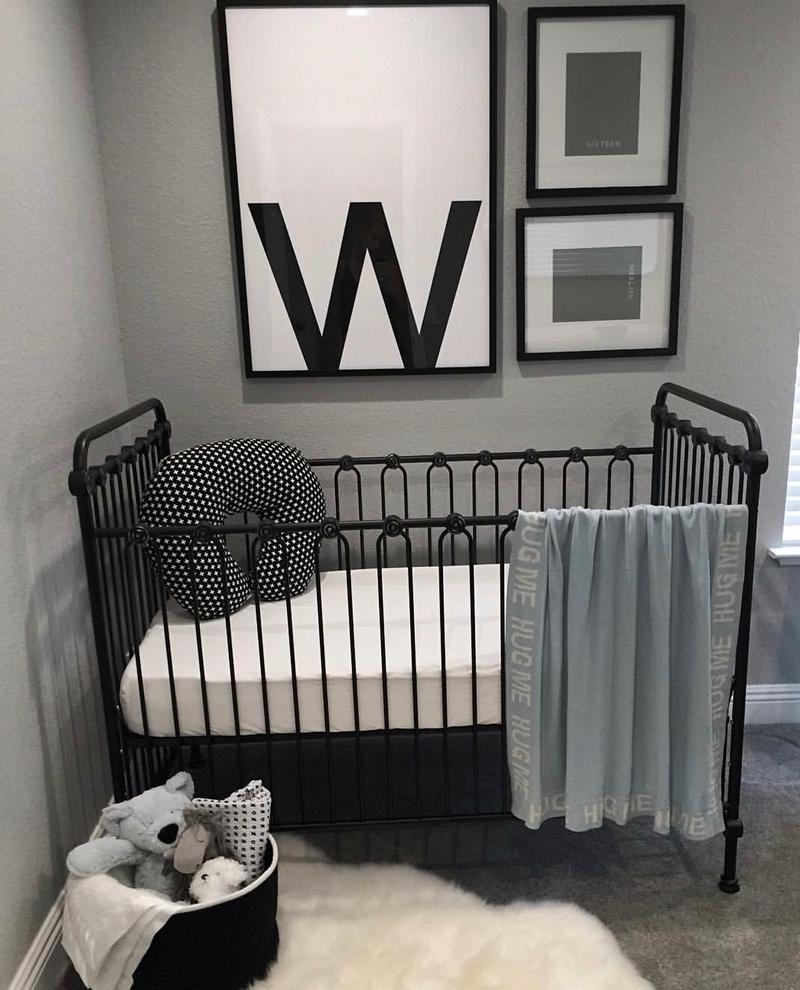 This picture is making me think the addition of black to my grey and white color scheme is a good idea. I think it makes the space look more masculine than all grey and white.
Baskets for Storage
The baby is already accumulating so many cute toys and blankets and I love the idea of keeping them out in the open by storing them in baskets or bins in an empty corner. I also recently realized that I will need a hamper in the baby's room…duh! I like the basket style pictured here.
A Little Boho
I like the greenery in this nursery. I don't think a potted plant is totally practical in a baby's room, but I love the wreath hanging on the wall. I also like the wicker-looking ottoman. This is kind of a stray from the other photos, but for some reason I really like the boho style of this room and I think a few touches here and there would work with grey and white.
Wall Art
I like the simple and sophisticated wall art in this room. Many nursery decor options are so obnoxious with the fire trucks, sports decor, and all those other themes that scream "baby boy". My husband and I want our little boy's room to be sophisticated and I think more adult-ish wall art like in the picture above looks so great in a nursery and can be just as visually stimulating for a baby.
A Touch of Color
I want the room to be mostly neutral colors, but I definitely will add some color here and there to make sure it isn't too boring. I like how the tapestry on the wall of this room stands out by being the only real color in the room.