My body type has always involved a thin waist, so when I started growing a belly thanks to my little boy, I had no idea how to dress it. Thank you, preggo bloggers and Pinterest, for being my knight in shining armor and showing me the way. Below are my favorite maternity outfit ideas.
Off-The-Shoulder Gingham
Gingham and off-the-shoulder tops/dresses are so cute for spring and summer, and I love that my baby bump and I can take part in this trend.
Duster Cardigan
A long cardigan is so perfect for pregnancy because (1) it will fit the entire 9 months (& beyond) and (2) it hides what I am calling "pregnancy butt" which, let's be honest, probably isn't as fit and toned as non-pregnancy butt.
Patterned Scarf + Trendy Bag

I'm getting by with a lot of neutral separates during my pregnancy to maximize versatility and minimize my maternity wardrobe, so a variety of accessories like scarves, bags, jewelry, and hats are very necessary to spruce up an otherwise boring outfit.
Sophisticated Jeans + a Tee
I love how this blogger made just jeans and a tee look so put together, even during pregnancy. I have these same heels in yellow, so I'm definitely planning on recreating this combo very soon.
LB[M]D
Another great maternity basic paired with accessories to make an interesting and stylish outfit. I could see this LBMD (little black maternity dress) worn so many different ways.
A Shift Dress + Sun Hat
I can't think of an outfit I'm probably going to gravitate towards more in the summer heat than this combo. A swingy dress will be so comfortable in what will surely be my hottest summer yet. I have read that your skin is more sensitive and therefore more prone to a bad burn during pregnancy, so a sun hat will have to be my new best friend too.
Stripes + Fedora
 Who doesn't love a nautical stripe in the spring and summer seasons? And there is something about a pregnant belly in stripes that I really like. This blogger looks so cute in her striped tee and fedora.
Leather Jacket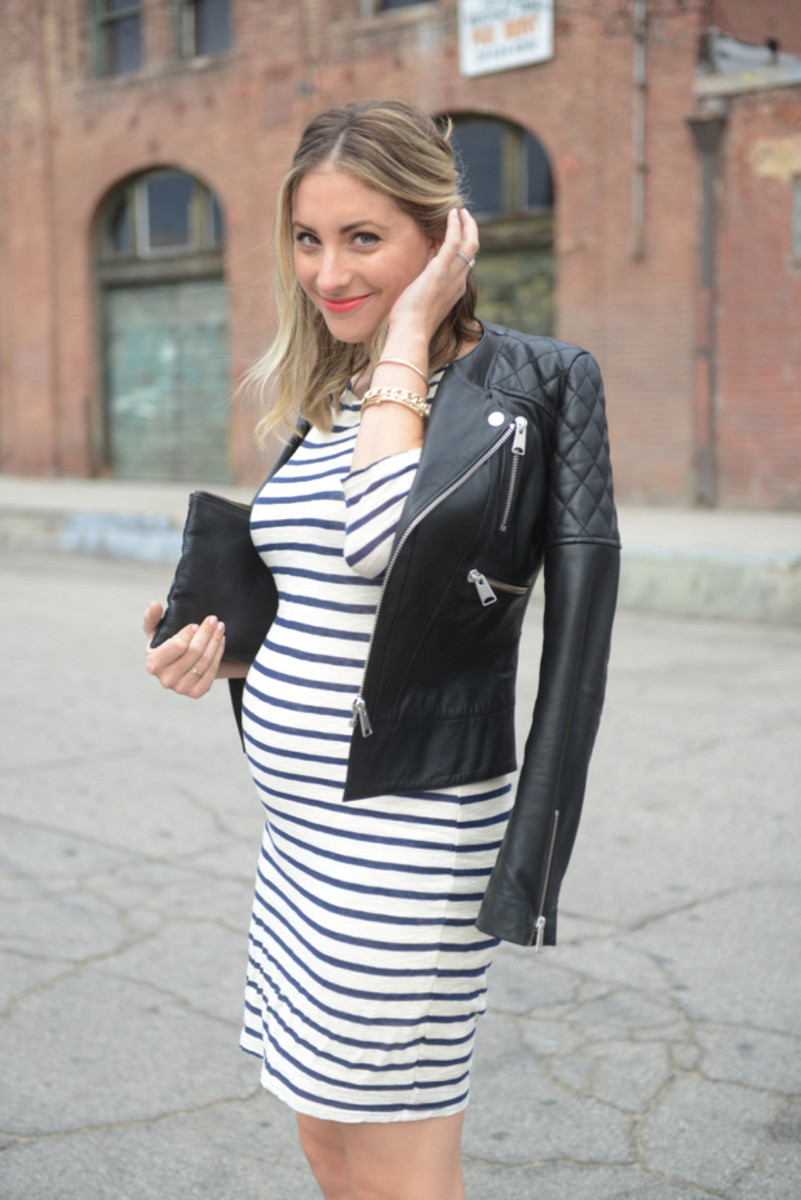 Jackets and blazers are great for pregnancy to make an outfit more interesting. I love how this leather jacket makes a simple dress look more sexy for date night.
Knotted Tee
I never thought to hike up a maxi skirt and pair it with a non-maternity tee that no longer fits by tying it above the bump! I also love the mix of patterns here.
Bodycon Dress
The day I discovered how flattering and comfortable bodycon dresses were with a baby bump was a very exciting day. I love how this girl paired her bright dress with tasseled earrings and mirrored sunglasses to create the cutest summery outfit.
Kimono
As I mentioned above, I love bodycon dresses for pregnancy and kimonos are such an inexpensive way to add color and pattern to your outfit.